How To Sell
BulletBlaster.com website is dedicated to the BulletBlaster.com gun magazine loader. This is a brief instructional on how to sell BulletBlaster.com gun magazine loader, from the inventor's perspective and also seasoned gun show sales representative. The following are the main sales points:
Load all your gun magazines with one multitool, no need to stock multiple gun loaders.
Use your upper arm strength to load, which works great for weak hands and arthritis.
Made from nonabrasive materials that won't scratch your followers or cartridges.
Made and manufactured in the United States.
BulletBlaster.com magazine loader can painlessly load all firearms caliber magazines such as but not limited to 9mm, 22lr, 380, 40, 45, 32, 25, 357, 10mm, 556/223, 308, 12G and more!
How to find instructions?
Key thing is that BulletBlaster.com gun magazine loader goes by caliber, not by the make and model of the firearm. On the back of each packaging is what is called a Caliber Map which shows the user what part of this multitool to use for what type of gun magazine caliber.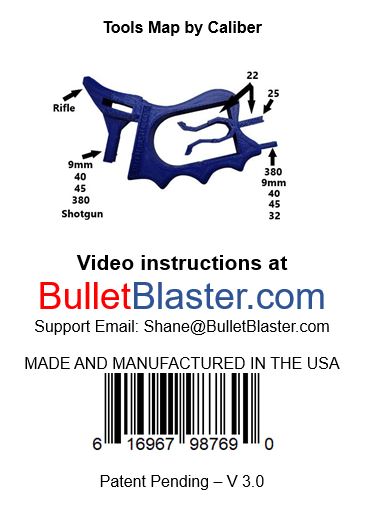 On the website BulletBlaster.com, the instructions for this multitool are simple. On every page of the BulletBlaster.com website there is a choice of three buttons as follows: "Handgun Loading Instructions", "Rifle Loading Instructions", and "Shotgun loading Instructions".

Simply choose which type of firearm loading instructional and the firearm caliber that is required to load into a gun magazine. Afterward, a video will show how to load that particular firearm and caliber.
Selling Assumptions
When selling the BulletBlaster.com gun magazine loader in person, avoid ask the prospect what type of gun magazine caliber they need to load for two reasons. The first reason is that 50% of prospects have too many gun calibers to name and the second reason is that the 50% of prospects do not recall what gun magazine caliber they own. Avoid putting the prospect on the spot. As a result, informing the prospect that it loads all major USA gun magazine calibers and say specifically the following major USA firearms calibers: handguns such as 9mm, 22lr, 380, 40, 45, rifles such as 556/223, 12G shotguns and more! Chances are the prospect owns one or more of these firearms calibers and/or will recall what firearm caliber they own (e.g. it is usually a 9mm handgun).
Emphasizing the back of the packaging and showing the prospect the Caliber Map will ensure them they will know how to use the BulletBlaster.com gun magazine loader multitool. Furthermore, the back of the packaging will inform the prospect where to find the video instructions ensuring the prospect's gun magazine loading success.
It's important to note to the prospect that if they lose the packaging, that they will be able to find the instructions on the website that is on the gun magazine loading tool itself.