BulletBlaster 3.0 Max Force
$19.99
Manufactured in the United States.
Use your upper arm strength to load.
Made from nonabrasive materials that won't scratch your followers or cartridges.
Load all gun magazines with one multitool. No need to stock multiple loaders. Loads all handguns, rifles, and shotgun magazines.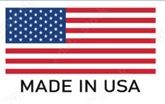 Description
$ 19.99 with shipping included!   
Be the hip trend setter at the firing range with the innovative BulletBlaster  thumb saver, speedloader multitool.  Let's make loading gun magazines fun again!
Condition is new, made in the USA. Shipped with USPS First Class, SHIPPING IS INCLUDED IN THE PRICE, YOU CAN'T BEAT THAT!!!!
UNIVERSAL MAGAZINE LOADER MULTITOOL! BulletBlaster 3.0 helps load all gun magazines including 9mm, 22LR, 40, 45, 380, 38, 357, 32, 25, rifles, and shotgun magazines and more! Do not be fooled by other gun magazines loaders that claim to be universal, we guarantee that the BulletBlaster can help load more gun magazines than any other universal loader available today!
INVENTED, DESIGNED AND MANUFACTURED IN THE USA!. BulletBlaster is 100% invented, designed, and manufactured in the USA.  We made BulletBlaster in Columbus, Ohio.  Do not be fooled by other products that say they are designed in the USA but are manufactured in China, BulletBlaster will always be 100% AMERICAN MADE!
POCKET SIZED, LIGHT AND EASY TO USE.  BulletBlaster is NOT a large complex machine.  As a result, it is light weight, small, compact, and easy to use. BulletBlaster is ergonomically shaped and designed to be held in your hand providing dexterity, force, and accuracy when loading gun magazines.
NO CLEANING OR OILING NECESSARY.  BulletBlaster has no moving parts and is easy to maintain.  No moving parts means no oiling or cleaning necessary.  If required, BulletBlaster it is easy to clean with regular soap and water.
NOVEL AND EFFECTIVE! BulletBlaster is patent pending because of its novelty compared to other gun magazine loaders.  Unlike any other loader, BulletBlaster wraps around your thumb and/or hand, not around the gun magazine, which makes it gun magazine universal.  BulletBlaster provides the ability to use your hand and arm muscles to effectively load the most stubborn gun magazine springs.
Additional information
| | |
| --- | --- |
| Weight | 0.0453592 kg |
| Dimensions | 5 × 3 × 1 cm |
| Color | Blue, Green, Black, Red, Orange |